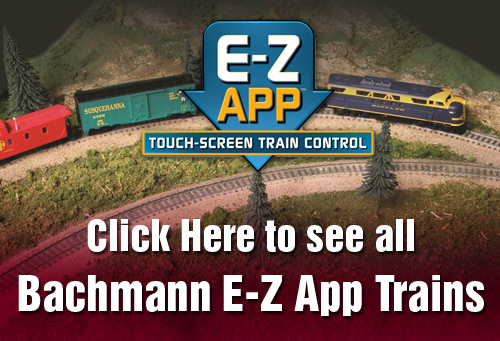 Bachmann trains in partnership with BlueRail Trains has developed a bluetooth smart control system to allow you to directly control model trains from your Bluetooth Smart Smartphone or tablet without any additional equipment.  This system uses brand new bluetooth smart technology (as found in the Apple watch) and allows you to simultaneously control as many trains as you want from 100 ft away with a simple, easy-to-use interface.  Enjoy your train in new ways, and because the entire control system requires no additional electronic components, all the software and firmware can be updated instantly. It works well with any track control system (16 v DC) so whether you have a standard transformer, DCC (or any other system) you can run these trains.
Bluetooth smart has great applications in all aspects of train and track control, so you can look forward to ongoing advancements and new features for years to come.
Welcome to Bachmann's E-Z App® Touch Screen Train Control System!